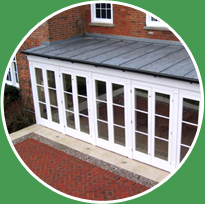 domestic
At Goldcrest Roofing we bring our professional expertise and high standards that we have developed within the commercial and industrial roofing industry directly to your domestic property. Whether you are looking to renew a garage roof or waterproof a porch we will treat it the same as any of our large projects, this means we bring the same standards of quality and safety to your property. We are always happy to advise and quote on cost effective ways that you can bring your home inline with the current building regulations for thermal performance to fire ratings.
At Goldcrest Roofing all of our employees are extensively trained to install the waterproofing products we use and are highly skilled operatives. All of our new roofs will be fully guaranteed for a period of no less than 10 years.
So why choose Goldcrest Roofing?
Free no obligation estimation/advise service
Fully trained operatives
All work guaranteed
Premium products at discounted rates
Designated member of our contracts team
Full support of manufacturers
Fully compliant to Heath & Safety legislations
Wealth of experience and knowledge
refurbishment
When a roof becomes problematic or potentially reaching the end of its life span you are left with two options, repair or renew. Replacing a roof can be a very costly and stressful ordeal, meaning that on occasions it is better to repair. A roof can require repairs for multiple reasons from its age to general wear and tear. Goldcrest Roofing specialise in domestic, commercial and industrial roofing refurbishment. With our in depth knowledge and expertise we can advise on the most cost effective and practical solution for the clients requirements. With our extensive range of products Goldcrest Roofing offer tailor made refurbishment packages based around the customer's budget or by the life expectancy of the refurbishment works. This means we can really offer a bespoke refurbishment package to suit our customer's needs.
With this service we offer the following;
Site survey
Comprehensive report
Advice on roofing systems
Extensive choice of products
Designated member of our contracts team
In-house health and safety management
Guarantees and/or warranties
Monitoring and full maintenance programme We add value through advanced, intelligent and creative methods to deliver outstanding roofing and waterproofing solutions.
construction
Goldcrest Roofing tender for a variety of roof systems on numerous contracts for construction companies the length and breadth of the country. We can facilitate contracts within the construction industry across many sectors;
Commercial
Industrial
Leisure
Retail
Medical
Food
Education
Residential
Goldcrest Roofing work on all types of projects from small extensions to large residential developments for many of the main contractors. We have a wealth of expertise working within the 'new build' market. This expertise offers our clients the comfort that the entire Goldcrest team dealing with their project has the appropriate knowledge and experience for the build to go as smoothly as possible.
What we offer:
With our own workforce we are able to achieve some incredibly fast programmes
We can work on restricted sites
We can provide value engineering suggestions together with budgetary advice and problem solving solutions for any building
In depth design assistance
Designated contracts manager for each project
Fully compliant to Heath & Safety legislations
In-house health and safety management
Minimum 10 year guarantee
emergency repairs
Your roof is probably the most important aspect of your property. Sudden damage or failure can cause financial, as well as physical, heartache. Our emergency repairs service is there for you to fall back on.
If you notice that your roof is leaking or damaged, simply give us a call and one of our highly skilled workforce will attend your property within hours. We will carry out a survey of the roof and offer honest and impartial advice before providing a competitive quotation.
We can also offer a 24 hour call out emergency service. This can be as simple as gutter clearance to storm damage and vandalism.
Our highly trained operatives can attend site within hours to temporary protect the building and we will then provide specifications and prices for a suitable repair or complete re-roof.
Goldcrest Roofing can also offer reactive maintenance on all types of property. This work can be supplied through an agreed schedule of rates or negotiated to meet the specific requirements of the customer.
planned maintenance
Like everything in life our roofs deteriorate in time and eventually come to the end of their time. Planned maintenance is a strategy to ensure your roof can function adequately and to preserve its lifespan and to possibly satisfy legal obligations.
We are able to offer a complete planned maintenance package to suit our client's requirements. Working with you, we can arrange a plan of maintenance for your premises; helping to prevent the occurrence of any major avoidable roofing issues.
We will carry out a full assessment of your premises, compiling a final report of works to be done. This will include any recommendations of works required to bring your roof up to a watertight standard. We will then liaise with you to prioritise a programme of works to be carried out. This will enable you to spread any costs over a set period and manage your budget effectively.
The preventative maintenance contract can include:
Regular gutter cleaning to prevent damage to your rainwater system, including clearing box guttering and moss removal
Roof inspections with emergency repair of any new issues to prevent worsening damage
General roof condition survey and report
Over the phone advice.